In the September edition
How to get the best out of Belkar herbicide and planning your propyzamide (Kerb Flo 500 and Astrokerb) applications this autumn

Pioneer maize harvest guide

The importance and benefits of using a silage additive

Don't forget to register for our £200 OSR Offer

Technical hotline contact details
How to get the best out of Belkar herbicide and planning your propyzamide (Kerb Flo 500 and Astrokerb) applications this autumn
There are a range of OSR crops out there, from those that were drilled early after winter barley, to those that have been a struggle to establish in the hot, dry few weeks that followed the late harvest. And with conditions still warm and a lot of rain around across the country, weeds are growing fast.
With
Belkar
®
,
wait until your crop is established and then tackle the weeds that are visible. Belkar offers outstanding control of key weeds including cleavers, cranesbill, poppy, shepherd's purse and fumitory.
Belkar has a window of application from either 1 or 15 September (depending on the rate being used) through to 31 December and it works in warm and cool conditions (down to 2°C) making it the ideal autumn herbicide.
There are three treatment options of Belkar which have performed best in trials:
At two true leaves, an application at 0.25L/ha will take out the weeds

which have germinated alongside the crop and, in some circumstances, that will be enough broad-leaved control before an application of

Astrokerb®

(propyzamide + aminopyralid) or

Kerb® Flo 500

(propyzamide) where grassweeds are a problem.

In high weed pressure situations where germination of another flush of weeds occurs

, growers have the option to make a second 0.25L/ha spray. This is usually two to four weeks after the first application.

Depending on workloads, growers can wait until six true leaves of the crop and all the weeds have flushed – after 15 September – to tackle bigger weeds

at a rate of 0.5L/ha which will take care of the weeds going into the autumn.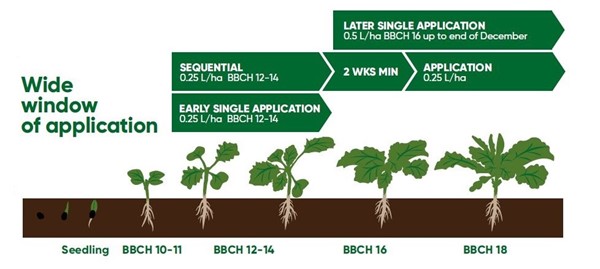 Resources to support your applications of Belkar, Astrokerb and Kerb Flo 500 this autumn:
Online courses are available on our
CPD page
:
Oilseed Rape: establishment and weed control

: 2 BASIS/2 NRoSO points available.

Grassweed control in OSR, PPZ & best practice

: 1 BASIS/2 NRoSO points available.
When you're on the go – make use of the
Corteva Arable App
. Access technical information on our arable crop protection products, including tank mix and labels. Also in the app is the upgraded functionality of the Kerb Weather Data tool aimed at helping farmers optimise their application timing of Astrokerb and Kerb Flo 500 in OSR. Available on the
App Store
or
Google Play
; s
earch "Corteva Arable".

Pioneer® maize harvest guide
I
deally forage maize intended for whole plant silage should be ensiled at a minimum of 30-32% dry matter in order to achieve reasonable fermentation characteristics, feed value and utilisation by livestock. Using basic field observations and the table below, it is possible to make a more accurate prediction of the standing crop's overall dry matter.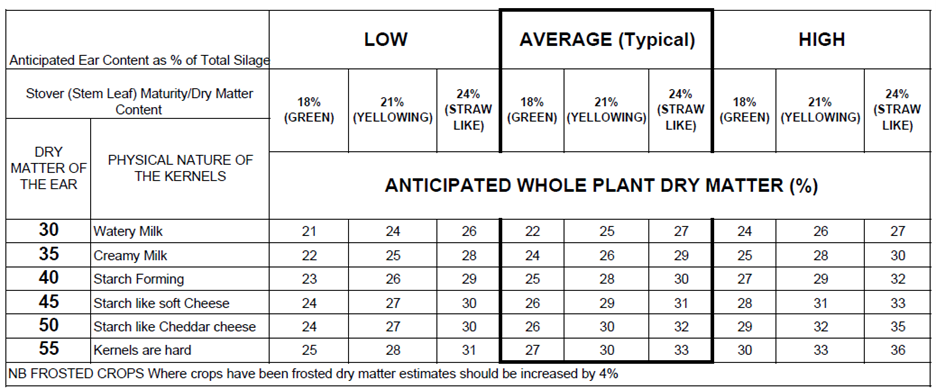 The importance and benefits of using a silage additive
It is wrong to assume good forage cannot benefit from the use of an appropriate additive, or that silage problems cannot be avoided by using one. Microbial additives such as Pioneer
®
Brand
11A44
and Pioneer Brand
11C33 Rapid React
®
are well proven to reduce the growth of spoilage organisms especially in silages that are difficult to consolidate and where air exclusion cannot be fully achieved. Silage nutritional quality can also benefit from a faster acid preservation and increased digestibility by using products such as Pioneer Brand
11CFT
.
Silage provides the backbone of most dairy rations. Preventing silage problems is important both from a nutritional and economical perspective. Adhering to the management basics for crop management, maturity, dry matter, chop length, compaction, feed-out and ration balancing will help maximise the benefits of fermented feeds.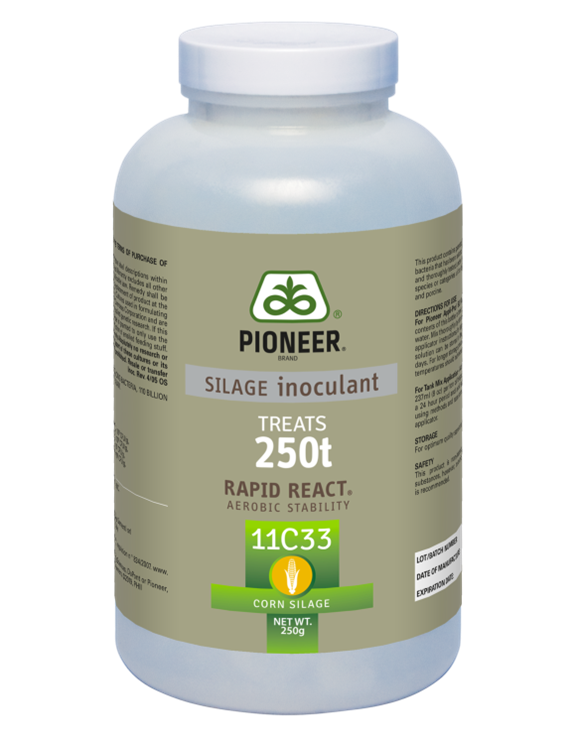 Don't forget to register for our £200 OSR Offer
We are once again running our OSR Offer to help you maximise the potential of your oilseed rape crop. This year, we will be offering £200 cashback to anyone that purchases
Protector
®
Sclerotinia tolerant hybrid, PT303
and
Belkar
®
herbicide
for the 2023/24 growing season. Anyone taking part in the offer will be eligible for a one-off payment of £200 if they make a purchase before 1 November 2023 and submit a claim form by 15 November 2023*. Click
here
to find out more and register your interest.
*Terms and conditions apply.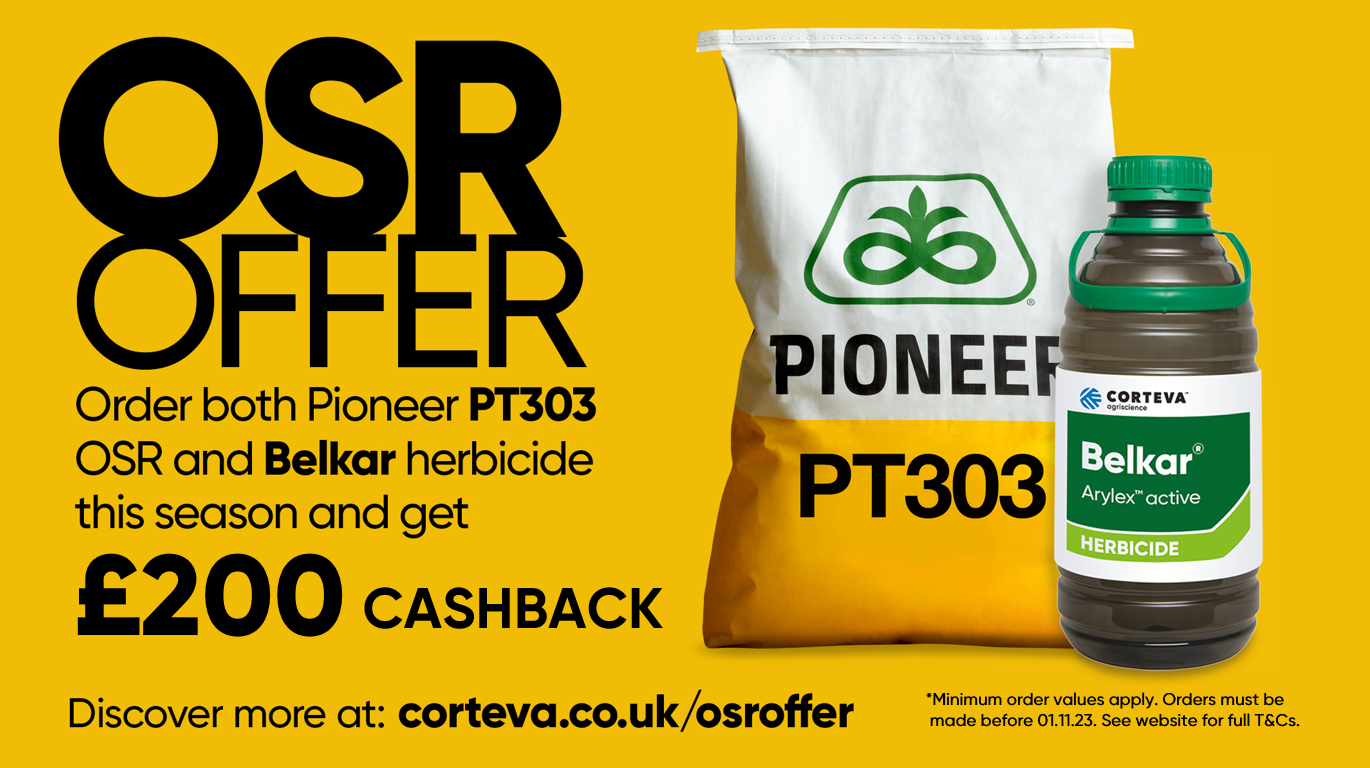 Want to hear more from us?
Update your preferences
and tailor your choices to make sure you receive the communications that are right for you. Don't forget to enter into our monthly prize draw by ticking the box before submitting to be in with the chance to win.


Subscribing to Corteva Agriscience Arable Update gives eligibility for
2 BASIS points and/or 2 NRoSO points.
Sign up
to this e-newsletter to receive the points.
USE PLANT PROTECTION PRODUCTS SAFELY. Always read the label and product information before use. For further information including warning phrases and symbols refer to label. Corteva Agriscience UK Limited, CPC2 Capital Park, Fulbourn, Cambridge CB21 5XE. Tel: 01462 457272. ®, ™ Trademarks of Corteva Agriscience and its affiliated companies. All other brand names are trademarks of other manufacturers for which proprietary rights may exist. All manufacturers tradenames and trademarks are duly acknowledged. Zorvec Endavia® contains benthiavalicarb and oxathiapiprolin. Belkar® contains halauxifen-methyl (Arylex™ active) and picloram. Astrokerb® contains propyzamide and aminopyralid. Kerb®Flo 500 contains propyzamide.