PT303 Hybrid Winter Oilseed Rape: Top of the AHDB Recommended List for gross output yield
Pioneer Brand PT303 Winter Oilseed Rape sits at the top of the AHDB Recommended List for gross output yield, with the added benefit of a claim by Corteva for tolerance to Sclerotinia.
As flowering ends and petal fall takes place, growers can check if weather conditions at their location are conducive to sclerotinia infection. Sclerotinia risk alerts can be found on the
AHDB website
.
With current WOSR grain prices being so high, protecting yield potential is as important as ever. Many growers will have applied at least one fungicide at mid flowering to protect the crop against future sclerotinia infection. Some growers however planted PT303 Protector Sclerotinia in 2021 and Corteva research data has shown these crops have an added layer of 'built in' yield protection if sclerotinia strikes.
Corteva results show PT303 sclerotinia tolerance provides a little more of that hard to get 'peace of mind' if serious sclerotinia infection conditions arise – and PT303 has the top genetic yield potential anyway as shown in the 2022 UK AHDB recommended list.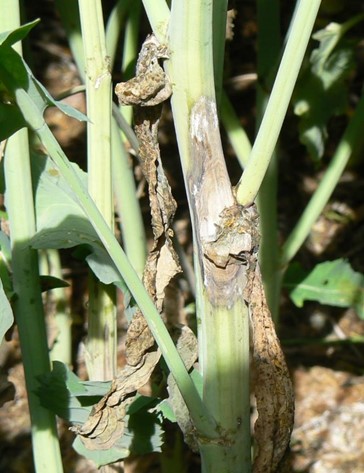 Picture: large sclerotinia lesion on main raeceme.
The conditions that favour sclerotinia can be seen in the graphic below. PT303 can provide you with extra confidence that your yield has the enhanced protection that may be needed as your crop enters the risk period for sclerotinia.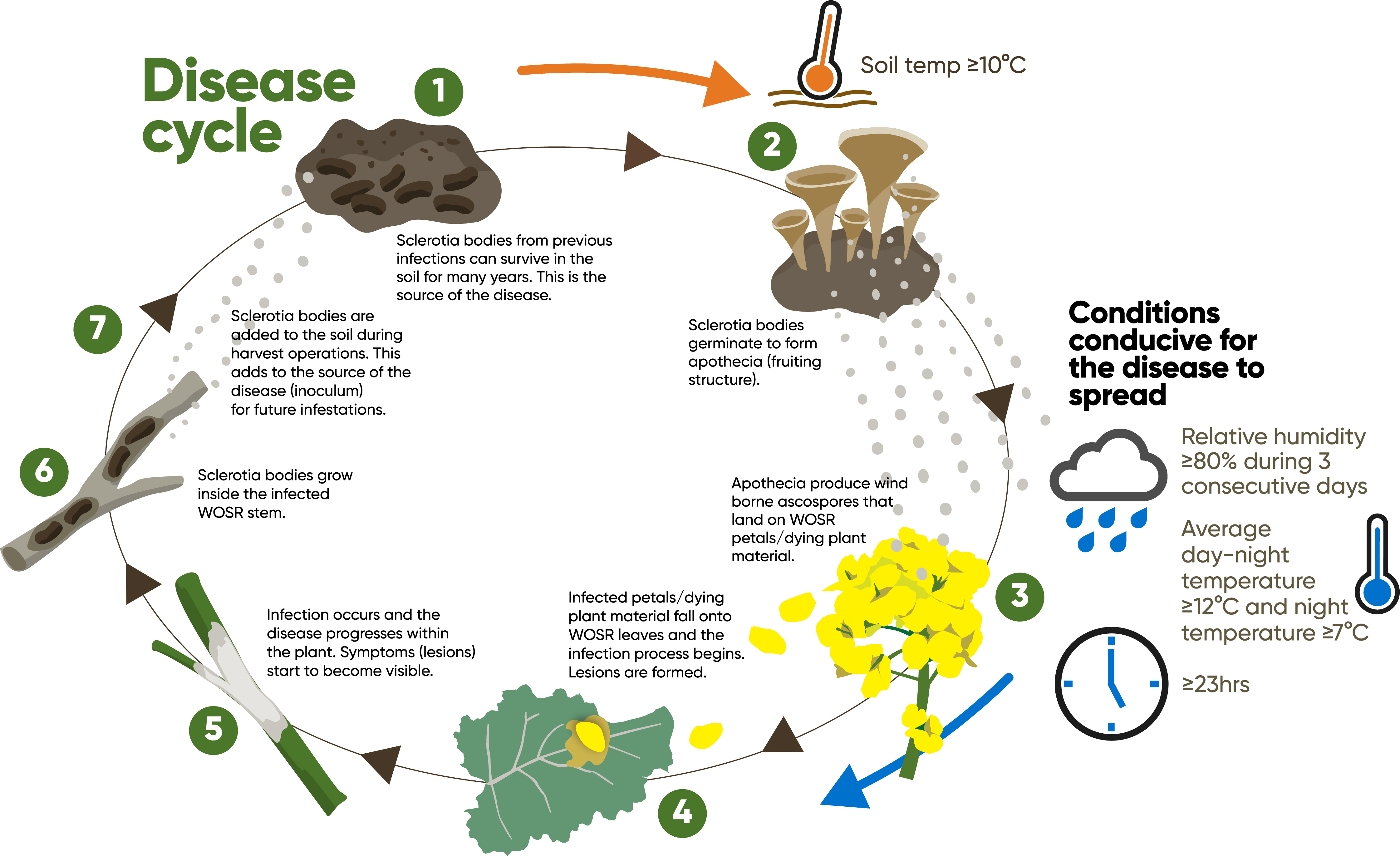 The best 'Option' for a clean start to your blight programme
Cymoxanil has been the backbone of the UK blight programme for many years and continues to provide invaluable curative activity that can be combined with other AIs at any stage of the blight programme.
With the future of mancozeb uncertain,
Option
®
, containing straight cymoxanil, offers additional curative activity of up to two days, and an alternative mode of action when mixed with other single AI blight products such as Revus, Ranman or Shinkon.
Commonly added when blight pressure is greatest to provide some curative "kick back" for preventative blight products, Option should increasingly be used more routinely as an anti-resistance partner. It is active at multiple points in the Late Blight lifecycle and the pathogen has not developed resistance to cymoxanil, despite its widespread use over time.
Whilst changes to the pathogen have arguably shortened the "kick back" period from 3 to 2 days, this reflects the aggressive nature of the current strains, rather than any change in the efficacy of cymoxanil.
Given the changes to the pathogen, getting a clean start for the crop, with no lesions on stems at the base of the canopy is more important than ever, so including a truly curative AI like cymoxanil with the rosette spray makes excellent sense.
Option may be applied up to 8 times throughout the season, covering more than half the applications in a typical UK blight programme of circa 14 sprays. Whilst it should always be mixed with another blight fungicide due to its short persistence in the plant, its truly curative properties and unique mode of action make it a highly effective partner for single AI and purely preventative late blight fungicides.
In addition, the lack of buffer zone and 1-day pre-harvest interval (PHI) provide total flexibility to mix with all potential partner products with no further complications in application.
How do I use Option fungicide?
Apply in mixture at 0.15kg/ha.

Use it early in the programme to get your crop off to a clean start.

Include in the programme as blight pressure increases to add curative activity to preventative products, including straight mancozeb while still available to UK growers, or as an anti-resistance partner for single AI fungicides.
If added to mancozeb, Option will provide robust curative activity while the mancozeb provides the persistence required in a 7-day programme and protection against Alternaria.

Growing potatoes this season? Take a look at our helpful resources.
New article:
Planning an effective blight programme in 2022.
Check out our CPM article contribution
here
.
New brochure:
Download the 2022 Zorvec
™
brochure
here
.
#FollowTheCrop video series is back:
Corteva's Field Technical Manager Craig Chisholm and Area Manager Abi Morton will provide top tips and advice through the season. Our latest video filmed on 16 June is below.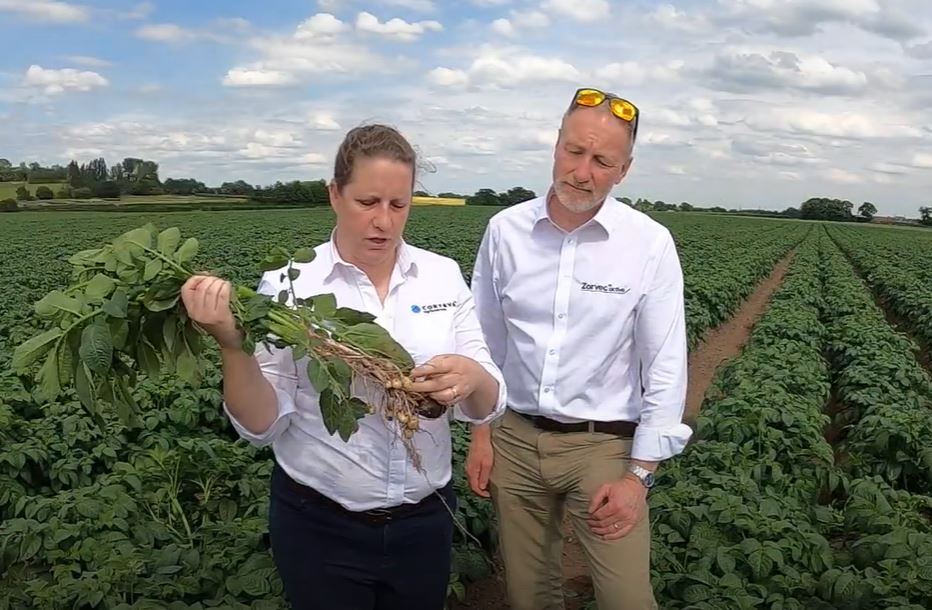 Potato technical video update
: Did you see our 2022 potato technical update video? Click below to watch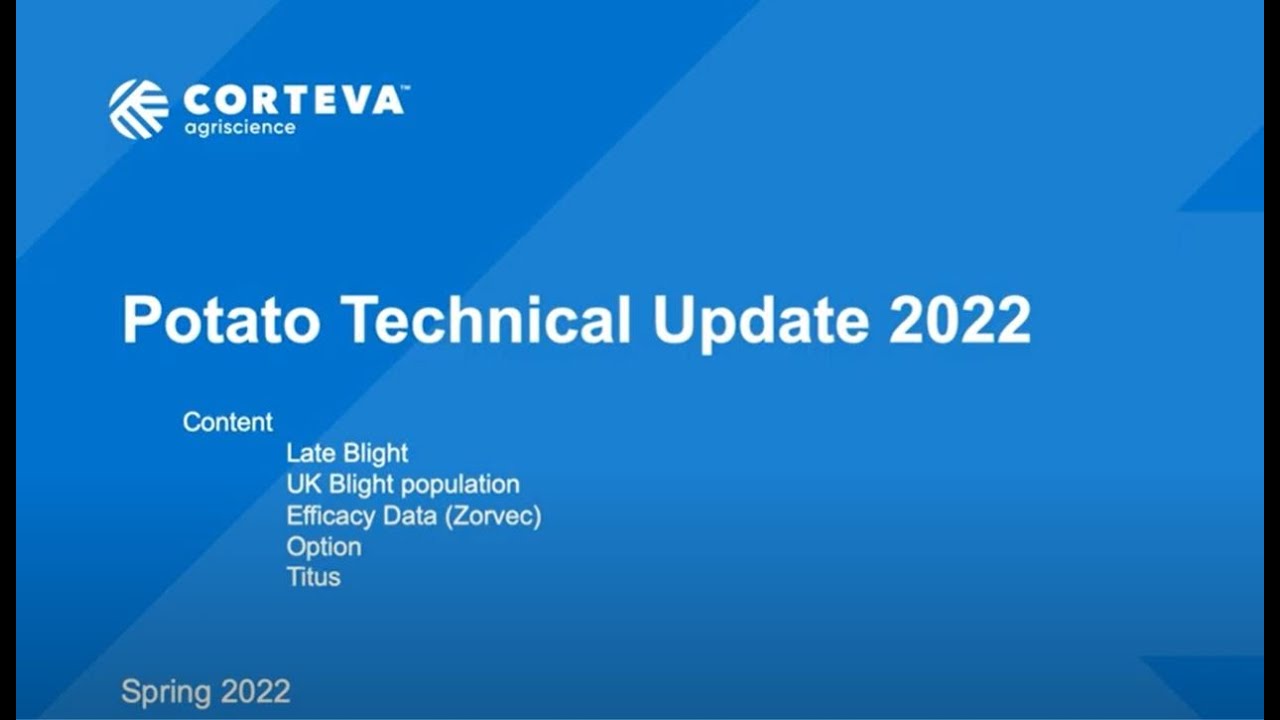 Dow Shield 400 Extension of Authorisation for Minor Use (EAMU) in Game cover
Game cover crops need careful managing, with weed control being an essential part of this management. Reducing weed pressure helps crop establishment. With most game cover crops drilled in April or May, they will be treated for weeds in June.
Dow Shield
®
400
can be used up to the end of July in the year of application, making it a practical product for those who want to create a better game cover.
Several different crop species can be established each year to provide shelter and food for game birds. Corteva Agriscience have run a series of trials to establish the safety of their Dow Shield 400 formulation on several commercially available mixes and crop types used in game cover. The screens demonstrate that at 0.25 l/ha of Dow Shield 400 there was no damage on red millet, white millet, sorghum, maize, mustard, quinoa, Gold of Pleasure or borage. Buckwheat suffered minor but transient damage. However sunflowers, red clover and chicory were significantly damaged and should be avoided in any mix. When the dose rate was raised to 0.5 l/ha, white millet, sorghum, maize, Gold of Pleasure and borage were again unaffected, but at this higher dose rate red millet, mustard, quinoa and buckwheat showed minor crop damage.
Other products in the Corteva portfolio can also be used in game cover crops including Kerb Flo, Starane Hi-Load, Starane XL and Thistlex. They are widely used in arable and grass crops, so are easily transferable into game cover crop situations under their EAMU's.

Disclaimer
EAMUs are granted only in relation to a particular product for specific uses. It is an offence to use an approved product in a manner that does not comply with the specific conditions of approval that is laid down in the statutory Appendix 1 "Conditions of Extension of Authorisation" of the EAMU. To demonstrate compliance with such terms, a user must have read and understood the document before commencing spraying operations. Possession of a current EAMU document is generally taken as part of the "burden of proof" of this requirement. Only the original EAMU document, held by the Chemicals Regulation Directorate ("CRD"), constitutes a valid legal document.
No reliance should be placed on an EAMU by a user in relation to products which, although similar to an approved product, are not expressly covered by the EAMU.
Register now for our £200 OSR Offer
If you're planning on growing oilseed rape this season, don't miss out on the opportunity to get a £200
One4All
gift card, eligible across a number of your favourite restaurants and shops!

Take part by purchasing
PT303 Protector
®
Sclerotinia
and
Belkar
®
herbicide before the 1st November 2022. Register your interest through our online form, then send proof of purchase through to our team who will validate and send your £200 gift card through.
Read more here
.
It was great to see so many at the Corteva stand at Cereals Event. We haven't exhibited since 2019 so it was wonderful to be there, see everyone and have many great conversations. Over the 2 days we served 1,800 slices of pizza and 750 hot drinks. 650+ visitors to the Corteva stand were on the CPD knowledge trail – we hope you found our posters and team to be very helpful. All our remaining 1,000 giant Corteva bags were given away at the event, it did feel like they were everywhere! We hope you picked one up and will get lots of good use from the bags and trays.