In the October edition
Tank mixing Kerb/Astrokerb

®

with Belkar

®

Propyzamide: Key information and resources

Autumn application of BlueN™ in WOSR

Use tried and tested grassweed control programmes this autumn

Volunteer oat control with Broadway

®

Star in winter wheat

The importance and benefits of using a silage additive

Don't forget to sign up for our €200 OSR Offer - registrations close tonight

Technical hotline contact details

IASIS points
Tank mixing Kerb/Astrokerb® with Belkar®
As autumn herbicide applications get into full swing, we have received several enquiries about tank mixing
Belkar
®
and
Astrokerb
®
. This is a good choice where you have a range of broad leaved weeds as well as grass weeds to control.
The driving weed will be a grassweed and most probably blackgrass or ryegrass. These will be controlled by the propyzamide in Astrokerb, especially if applied at 1.7L/ha. Astrokerb will also control mayweeds, poppies and thistles. It will not control cleavers, shepherd's purse or fumitory and will only deliver moderate control of cranesbill. So tank-mixing Belkar with Astrokerb gives an effective solution to get good control of cleavers, fumitory, shepherd's purse, and all cranesbill species.
For more information on different programme scenarios, you can take a look at our latest topic sheet
here
.
Use rates
The key to good grass weed control with propyzamide is to apply to weed seeds germinating in the top 5cm or so of soil, when soil temperatures are 10°C and falling, and when there is sufficient soil moisture present (but not waterlogged).
Conditions aren't suitable yet but tend to be from November onwards and it's likely that at this time broad-leaved weeds will be quite large and require 0.5L/ha of Belkar. For grassweed control and wide-spectrum broad-leaved weed control,
Kerb
®
Flo
or Astrokerb plus Belkar (0.5L/ha) is a popular tank mix strategy, controlling a broad spectrum of weeds in one application.
Belkar has a wide range of compatibility options, including fungicides and insecticides. However, please note that Belkar cannot be mixed with fungicides that have known PGRs effects, ie metconazole, tebuconazole. View tank mix information for Belkar

here

.
Propyzamide: Key information and resources
We have just launched our Propyzamide Back to Basics online Hub. Here you will find everything you need to know about this selective, systemic herbicide for use in oilseed rape, so take a look. You'll be one of the first to see our new video featuring Corteva's Sally Egerton and Clare Stapley.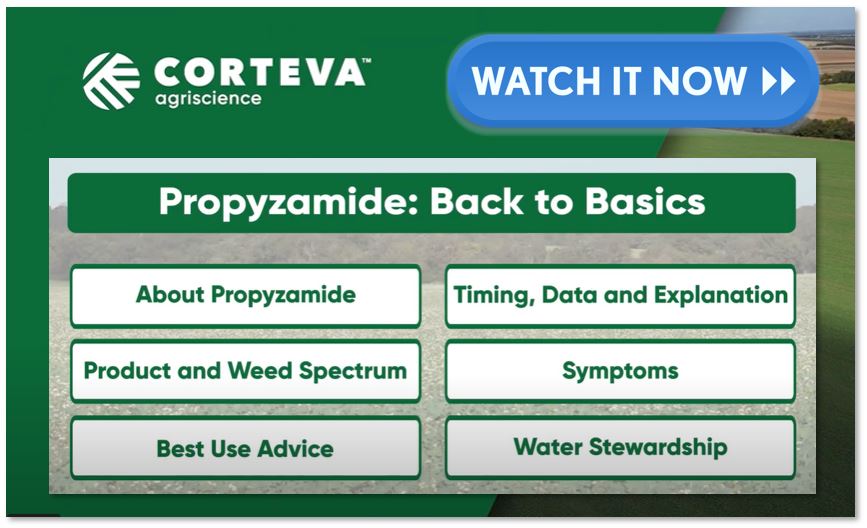 Autumn application of BlueN™ in WOSR
BlueN
, Corteva's Nutrient Efficiency Biostimulant, provides WOSR crops with a sustainable way to capture nitrogen throughout the season. The nitrogen captured from the atmosphere by BlueN is not affected by unfavourable weather conditions which can cause leaching or volatilisation during the growing season. BlueN can be applied to WOSR in the autumn or in the spring.
Where WOSR autumn canopy development is good, i.e, from 4-6 leaves and leaf loss due to frosts and pigeon damage is not expected during the winter months, apply BlueN when temperatures are above 10°C to help colonisation of bacteria in the plants.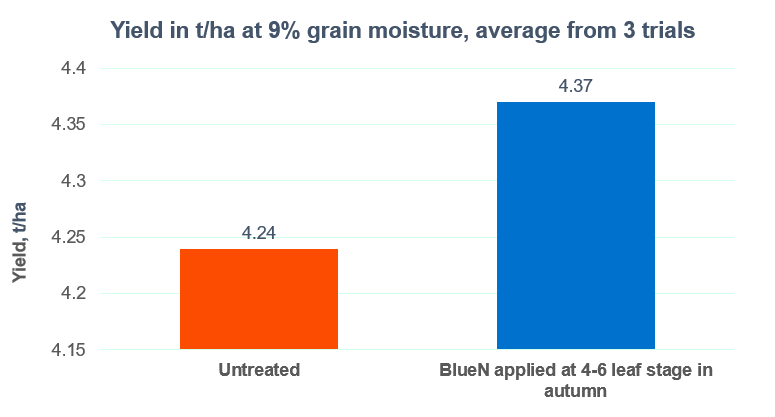 Average yield increase 133 kg/ha. In the range of 80-180 kg/ha, yield increase observed in all 3 trials.
If severe frosts or pigeon damage defoliate the crop during the winter, BlueN can be reapplied in the spring.
Meta-analysis data has shown that in 63% of trials, applying BlueN to crops "on top" of the planned fertiliser programme brings a yield increase over those that were not treated with BlueN. The average yield increase benefit was found to be +0.2 t/ha.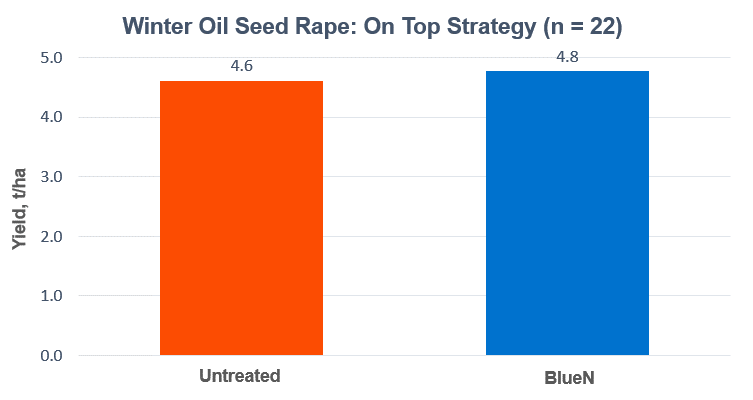 Want to know more about BlueN? Watch our "
Introduction to BlueN
" video featuring Iuliia Kovalova, Corteva's Field Technical Manager for Biologicals.
Use tried and tested grassweed control programmes this autumn
As drilling and pre-emergence applications come to a close, growers' minds should now turn to planning the post-emergence follow-up spray where needed.
Hitting grass weeds early, before they become competitive is more important than ever, particularly when it comes to difficult grass-weeds such as brome and ryegrass. Using a residual in combination with a post-emergence herbicide is also an important part of good resistance management strategy. The residual component will take out or heavily restrict the growth of some early-emerging grassweeds, leaving less work for the contact spray to do later, meaning better overall control and a reduced risk of resistance building.
Broadway
®
Star
has been a mainstay of autumn and spring grassweed programmes for many years, delivering excellent control of sterile and great brome when used following an application of pendimethalin plus flufenacet in the autumn. For best results, always apply Broadway Star when target weeds are small and actively growing.

Volunteer oat control with Broadway® Star in winter wheat
With over 100,000 hectares of oats planted annually, it is likely that you will get a volunteer problem in subsequent cereal crops. Volunteer oats are extremely competitive in a winter wheat crop and should be controlled early in order to avoid competition that may result in loss of yield. Because you are trying to control a cereal in a cereal crop, the options for control are limited.
If an oat crop was grown last season, check the fields in autumn for oat volunteers as soon as the crop emerges. If they are present, they are most easily controlled in autumn when small, rather than leaving them until spring, where control can be variable.
Using Broadway Star
Broadway Star
will control volunteer (tame oats) when used at 265g/ha + Adjuvant. Optimum control is achieved in the autumn when the oats are small. As a general rule of thumb, control of larger oats will reduce the later you try to treat them. So for Broadway Star, control will decline beyond growth stage 30 (stem extension). However, Broadway Star offers much more consistent control than ACCase chemistry for example.
Data from a Corteva Agriscience trial carried out in 2021/2022 showed that Broadway Star + Adjuvant fully controlled the following tame oat varieties when applied in the autumn; Fusion, Elyann, Isabel, Balado, Mascani, Lineout, Southwark, Canyon and Dalguise. In the same trial, spring applications resulted in inferior control, due mainly to the larger size of the oats and less than ideal conditions at the time of application (dry and cold).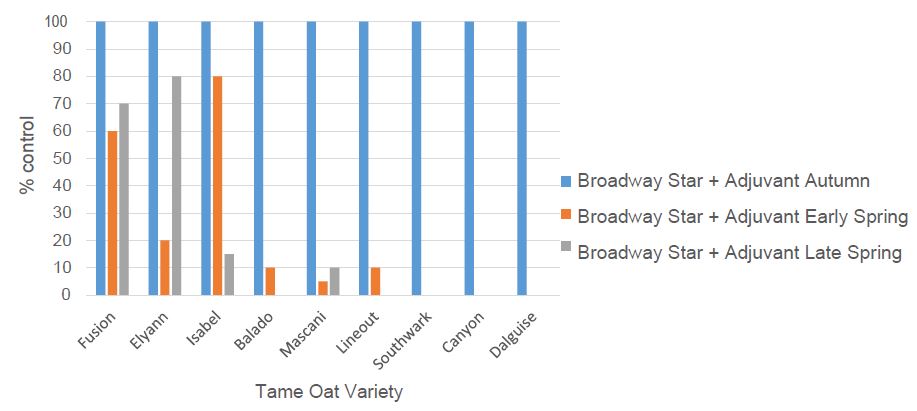 These oat varieties are trademarks of other manufacturers for which proprietary rights may exist. All manufacturers tradenames and trademarks are duly acknowledged.
The importance and benefits of using a silage additive
The autumn maize harvest is now well under way, it is important to consider the potential benefits of harvesting some of the crop for crimped grain maize silage. Considering the nutritional value of the crimped maize silage, adding a
silage inoculant
to enhance the fermentation process and ensure aerobic stability is an important step in the ensiling process. Pioneer brand
11A44
will dramatically reduce heating within the silage pit. Shown to decrease yeasts and moulds to just 0.1% of untreated control silage, this product will improve fermentation and reduce dry matter losses when used on crimped maize at less than 65% dry matter.
In circumstances where a quick feed out is needed, our crimped grain maize inoculant
11B91
Rapid React
®
containing
Lactobacillus plantarum
and
Lactobacillus buchneri
will give the rapid drop in pH and the aerobic stability to allow feed out as soon as 7 days. The
Lactobacillus plantarum
in 11B91 Rapid React will also ensure a faster and more efficient acid fermentation than that achieved when using 11A44.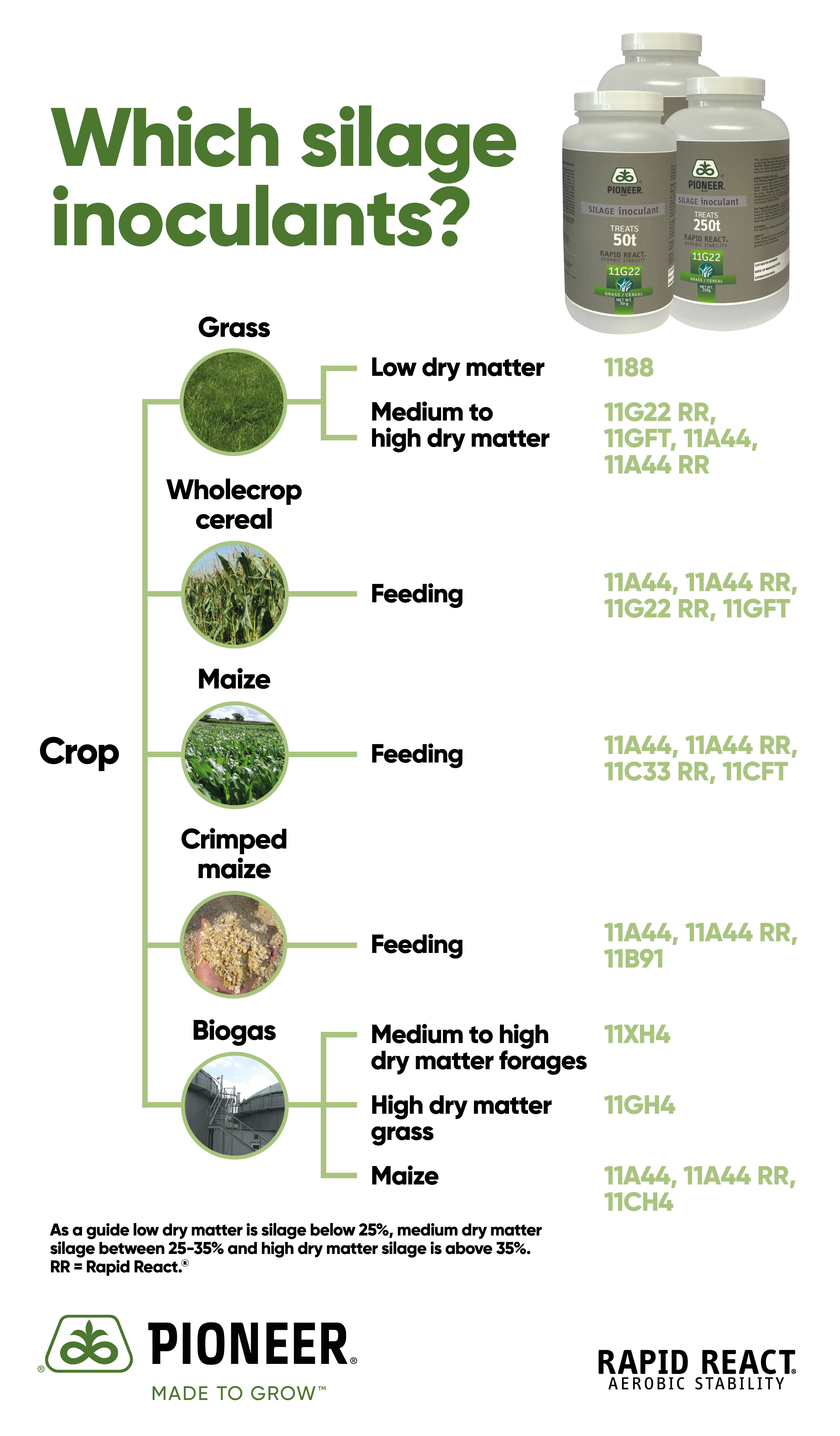 Don't forget to sign up for our €200 OSR Offer - registrations close tonight
We are once again running our OSR Offer to help you maximise the potential of your oilseed rape crop. This year, we will be offering €200 cashback to anyone that purchases
Protector
®
Sclerotinia tolerant hybrid, PT303
and
Belkar
®
herbicide
for the 2023/24 growing season. Anyone taking part in the offer will be eligible for a one-off payment of €200 if they make a purchase before 1st November 2023 and submit a claim form by 15th November 2023*. Click
here
to find out more and register your interest.
*Terms and conditions apply.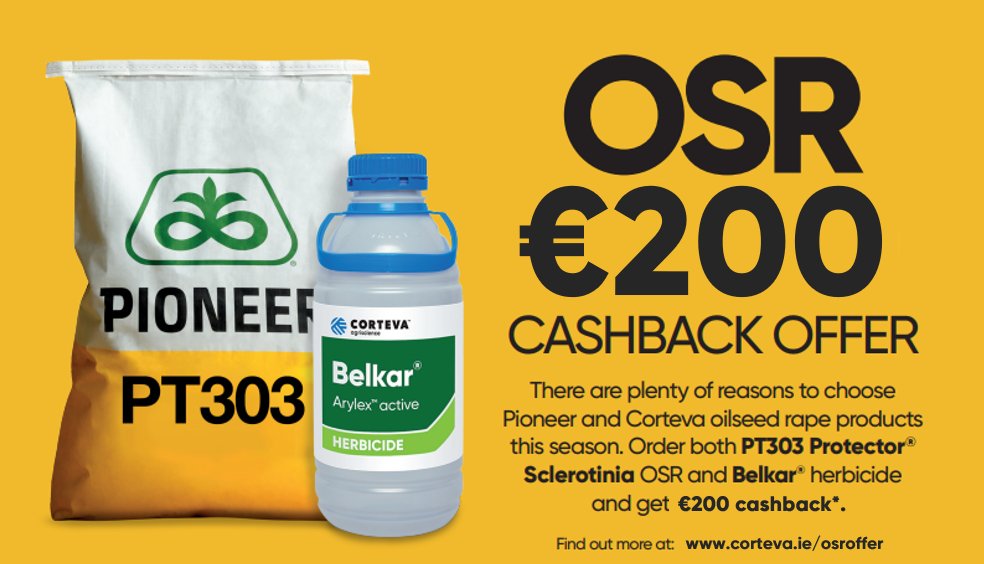 The sole Irish supplier of our oilseed rape varieties are
Drummonds
.
Visit
drummondsireland.com
, or contact a representative: Brendan Reilly 353 87 259 8338; Brian Reilly 353 87 600 4800 for further information.
Want to hear more from us?
Update your preferences
and tailor your choices to make sure you receive the communications that are right for you. Don't forget to enter into our monthly prize draw by ticking the box before submitting to be in with the chance to win.

If you need technical advice or support, we're here to help.
Keep up to date by following us on X and Facebook.
Search for @CortevaIE or click below to like and follow.
You can also follow Liz on X
here
.
10 IASIS points will be awarded to those subscribing to this Agronomy Update.
Use plant protection products safely. Always read the label and product information before use. PAY ATTENTION TO THE RISK INDICATIONS AND FOLLOW THE SAFETY PRECAUTIONS ON THE LABEL. Triple Rinse Containers and Invert to Dry at Time of Use. For further information including warning phrases and symbols refer to label. ®, ™ Trademarks of Corteva Agriscience and its affiliated companies. All other brand names are trademarks of other manufacturers for which proprietary rights may exist. All manufacturers tradenames and trademarks are duly acknowledged. Belkar® contains halauxifen-methyl (Arylex™ active) and picloram. AstroKerb® contains propyzamide and aminopyralid. Broadway® Star contains pyroxsulam and florasulam. Kerb® Flo contains propyzamide.