In the February edition
Act early on spring-emerging weeds in OSR crops with Korvetto herbicide

Early window for weed control will appeal to cereal growers - spring grassweed control with Broadway Star

Zorvec Entecta available for Irish growers

Best practice advice for Inatreq product use in 2023

How BlueN works

Resilient and Ready new farmers announced

Technical hotline contact details

IASIS points
Act early on spring-emerging weeds in oilseed rape crops with Korvetto herbicide
Although autumn herbicide programmes are working well in most oilseed rape crops, reports of spring-emerging weeds including cranesbill, scentless mayweed and cleavers mean growers need to keep a close eye on crops and take decisive action.
With many crops well advanced, applications of
Korvetto
®
should be made as soon as the application window opens on 1 March, and conditions allow.
Korvetto is essential for those starting to see evidence of cleavers as it controls them up to 10cm. There are no following crop restrictions in conventional rotations, and growers can still use 1l/ha of Korvetto if they have applied a post-emergence herbicide in the autumn such
as Belkar
®
or AstroKerb
®
.

Korvetto herbicide provides superior control of a wide range of annual broad-leaved weeds including cleavers, mayweed, and thistles.
Treatments should be made prior to crop canopy closure and before flower buds are visible from above the crop canopy (BBCH 50).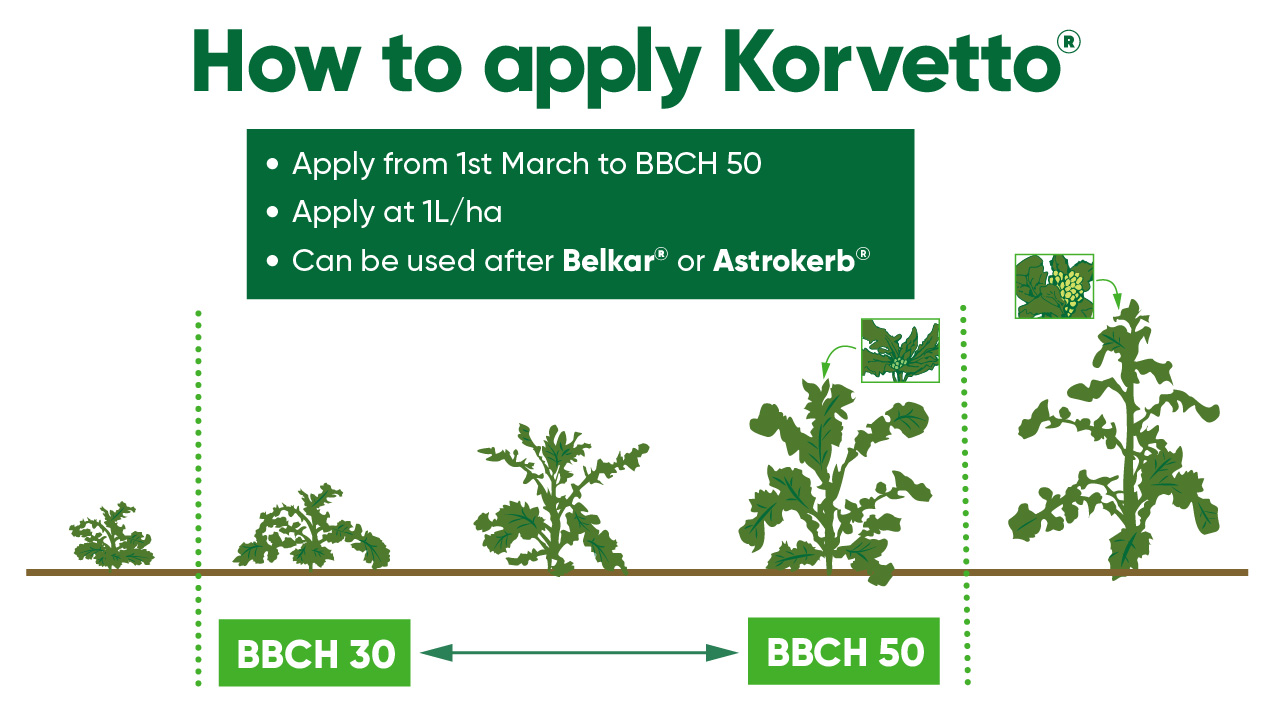 Click to watch our Masterclass in Minutes with Clare Stapley, Corteva OSR herbicides Category Marketing Manager.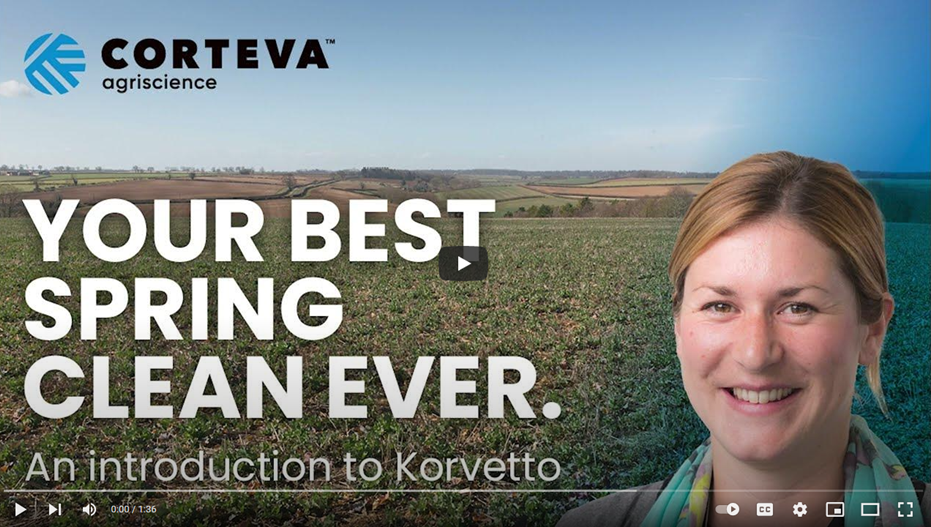 Early window for weed control will appeal to cereal growers - spring grassweed control with Broadway Star
Conditions across most of the country look to be improving and growers should now be considering applications of a post-emergence graminicide for grass weed control.
Broadway Star
®
is often one of the first products to be applied if an early opportunity presents itself and with reports of sterile brome ryegrass and wild oats in some crops, growers should look to control these weeds at the earliest opportunity.
Although we are due a short cold spell, as soon as conditions warm, growers should be ready to go. Early applications for sterile brome control will benefit from tank-mixing with pendimethalin, to provide some residual activity where there is potential for further germination.
Broadway Star also controls a range of difficult broad-leaved weeds, including cleavers, charlock and cranesbill, so there is usually no need for a specific broad-leaved weed follow up spray, provided the weeds are present at application. There is even some activity against umbelliferous weeds such as Burr Chervil and Wild Carrot if applied early to small plants.
Apply Broadway Star at 265g/ha in conjunction with an approved adjuvant. For best results target weeds when small and actively growing.
The mild conditions have also resulted in a second flush of volunteer beans in cereals. Their presence in crops can cause problems for contact graminicides as the large leafy volunteer can shade grassweeds and reduce control, they are also extremely competitive for light and nutrients. Although autumn is the best time to control bean volunteers, an early application of
Zypar
®
at 0.5l/ha will control volunteer beans up to 8 true leaves in size and will not be affected by cold temperatures.

New late blight fungicide registered for Irish potato growers
Corteva's revolutionary chemistry, oxathiopiprolin, the leading product for the prevention of late blight in potatoes, is now available for Irish farmers in a new formulated product Zorvec Entecta™.
Zorvec Entecta is a liquid formulation combining the Zorvec active (oxathiopiprolin) with amisulbrom in a one-litre bottle to cover 4ha, providing protection from late blight for up to 10 days after application.
Corteva launched the Zorvec active in 2018 and it was originally sold in co-packs. More recently, it was available in co-from with benthiovalicarb as Zorvec Endavia™. Since then it has played a significant role in evolving blight strategies, due to its robust preventative activity and the ability to stretch intervals to 10 days between applications.
This new co-formulation pushes the boundaries of traditional spray programmes by delivering market leading persistence, that provide unrivalled duration of protection, tackling late blight present in the plant, as well as moving systemically to protect new growth.
Read the press release here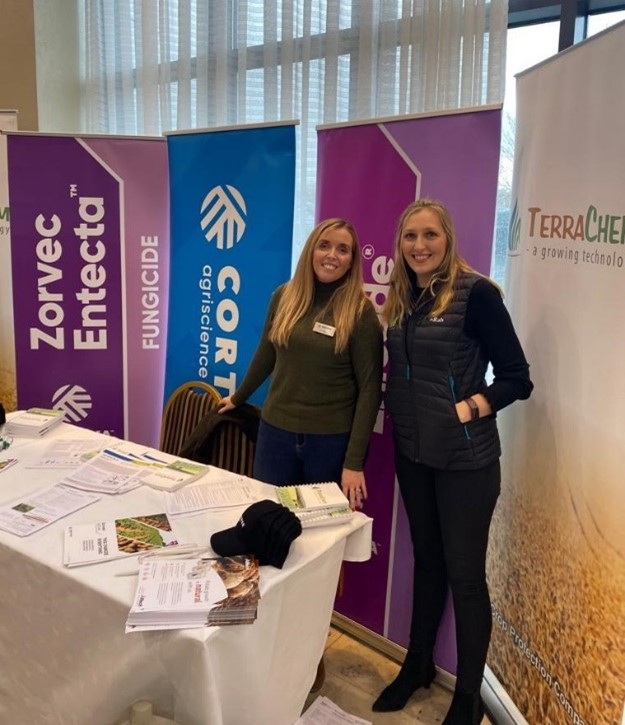 Liz and Margaret from TerraChem were at the National Potato Conference.
Best practice advice for Inatreq™ product use in 2023
Products containing Corteva's cereal fungicide Inatreq™ active have, over the past growing seasons, proven their ability to deliver outstanding control of key diseases - most notably septoria and rusts.
For farmers and sprayer operators who want to utilise the unique benefits of products containing Inatreq active in 2023, Corteva has issued best practice application advice to help optimise field operations. A dedicated webpage has been created for this information:
www.corteva.ie/inatreqadvice
.
Through videos, parts guidance, a €200 stewardship support offer and other information, users of Inatreq active will be well equipped to get the most of out products containing Inatreq this year
.


BlueN – how does it work?
BlueN
is a novel nutrient efficiency biostimulant for use in a broad range of crops. BlueN contains
Methylobacterium symbioticum
, a bacteria found in nature that fixes atmospheric nitrogen for use by the plant. BlueN provides a sustainable, alternative source of nitrogen that reduces dependency of nitrogen uptake from the soil and ensures the plant has access to nitrogen all season long.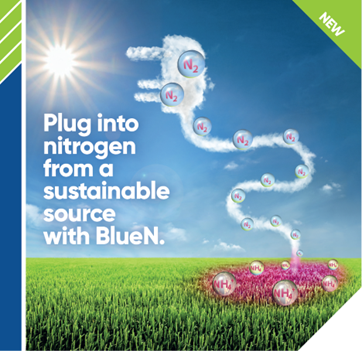 So, how does it work?
BlueN enters the plant through the stomata from where it can colonise the leaves.

BlueN converts atmospheric N

2

into ammonium which can be used by the plant.

Plants generate methanol during normal growth which is used as a food source by BlueN ensuring reliable colonisation.
Find out more on how BlueN supplies Nitrogen to the plant by clicking
here
.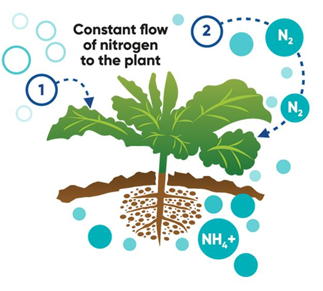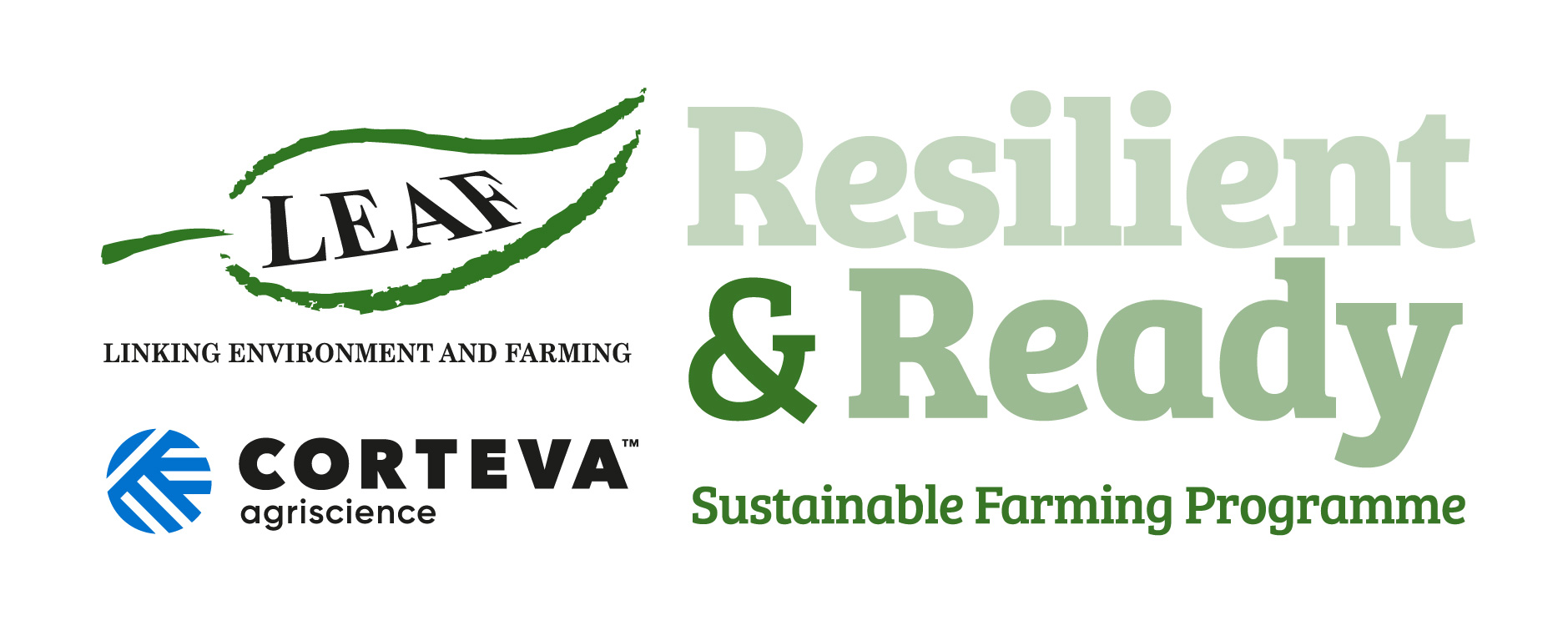 If you need technical advice or support, we're here to help.
• Liz Glynn, National Technical Manager. 00353 (86) 844 5306
• You can also visit our
website
for product information, labels and advice.
NEW: Last month we launched our Ireland Twitter and Facebook accounts.
Search for @CortevaUK or click below to like and follow.
You can also follow Liz on Twitter
here
.
10 IASIS points will be awarded to those subscribing to this Agronomy Update.

Use plant protection products safely. Always read the label and product information before use. PAY ATTENTION TO THE RISK INDICATIONS AND FOLLOW THE SAFETY PRECAUTIONS ON THE LABEL. Triple Rinse Containers and Invert to Dry at Time of Use. For further information including warning phrases and symbols refer to label. ®, ™ Trademarks of Corteva Agriscience and its affiliated companies. All other brand names are trademarks of other manufacturers for which proprietary rights may exist. All manufacturers tradenames and trademarks are duly acknowledged. Korvetto® contains halauxifen-methyl (Arylex™ active) and clopyralid. Inatreq™ active contains fenpicoxamid. Astrokerb™ contains aminopyralid and propyzamide. Belkar contains halauxifen-methyl (Arylex™ active) and picloram. BlueN contains Methylobacterium symbioticum. Broadway Star contains pyroxsulam and florasulam. Zypar® contains Arylex active and florasulam. Inatreq™ active contains fenpicoxamid. Zorvec Entecta™ contains oxathiopiprolin with amisulbrom. Zorvec Endavia™ contains benthiavalicarb and oxathiapiprolin.